Hello!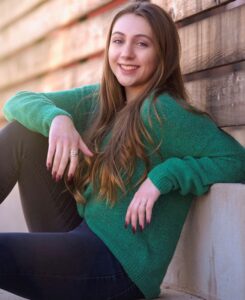 My name is Chloe Parker, and I am first and foremost a beloved Child of God! I am twenty years old, and I am from Piedmont, Oklahoma. I am engaged to my high school sweetheart, Joseph, and we are getting married next spring! I am a senior at the University of Central Oklahoma where I am a Psychology major with a minor in Business Administration. I plan to use my degree to love and serve others by becoming a Licensed Practicing Counselor.
I recently moved to Surrey Hills, and in my search for a new church home, I found Grace Communion Surrey Hills. What I have found here is so much more than a church, I have found a loving church family that has helped me to grow my relationship with Jesus and encouraged me to pour out into my community. I have been very blessed to be able to serve on our Love Avenue Team and in our GC Surrey Hills Children's Ministry program. My time spent with the kiddos in our Children's Ministry and the time spent with the community during a Love Avenue outreach, has made this neighborhood and GCI feel like home.
I am so excited to be a part of the GCI Intern Program. I am looking forward to learning more about the 3-Avenues and what it means to be Team-Based as well as experiencing a real and authentic relationship with Jesus as He draws me closer to Him. I have such a heart for Jesus and for serving others. I cannot wait to learn more about ministry leadership and am so excited to see where this experience leads me.
As a part of the Program, I am asked to fundraise a portion of my salary. My fundraising goal for 2023 is $5,000. I am excited to learn more about fundraising and how this skill can help in ministry throughout my life. If you feel compelled to give toward my goal, you can give one time or monthly. No gift is too large or too small, and from the bottom of my heart I appreciate you and thank you all so much! I will be sending quarterly updates to all my financial supporters. I can't wait to see what God has in store for 2023!
With Love,
Chloe Parker
Intern, Grace Communion International