Loving kids. Developing leaders. Sending a generation.
GCI Generations Ministries (GenMin) provides youth ministry support services
to GCI-USA congregations through camps, mission trips, and leader development programs.
Gen Min Goals
Disciple Children and Youth
Children are not only the future, they are the now. GenMin coordinates programs and provides resources to help young people live like Jesus, love like Jesus, and make disciples like Jesus.
Develop Churches that Effectively Engage and Equip Young People
In order to effectively disciple young people, churches must be able to: meet young people where they are; be skilled in building relationships with youth; contextualize the gospel for the younger generation; and create spaces for them to practice their ministry gifts. GenMin supports GCI congregations in becoming places where children and youth spiritually thrive.
Strengthen the Skills of Youth Workers
The most transformative influence in a child's life is a relationship with a caring adult. GenMin seeks to surround our young people with adults who not only love them in Christ, but have the skills to help youth navigate their lives in a way that leads them into deeper communion with God.
Meet Our Gen Min Coordinator
Dishon Mills is gifted by God in discipleship and leadership, with experience as a social entrepreneur. Currently, he serves as the National Coordinator of GCI's Generations Ministry and lead church planter of our GCI Church Plant in Charlotte, NC. Dishon's ministry journey began in 1999 when he was licensed by the American Baptist Church and served locally as a youth minister. Over the next 10 years, he was a youth pastor and/or associate pastor in a traditional Baptist church, megachurch, and Pentecostal church. Additionally, Dishon worked as a church planter for four years. Outside of ministry, Dishon has 20 years of experience working for formal and informal education organizations, including: Boston Public School, South Boston Boys and Girls Club, The Computer Clubhouse, and the ArtScience Prize. Dishon received a Bachelor's Degree from Harvard University, where he studied Sociology and African American Studies, and a Master's of Pastoral Studies from Grace Communion Seminary. He lives in Charlotte, NC with his wife, two children, and dog.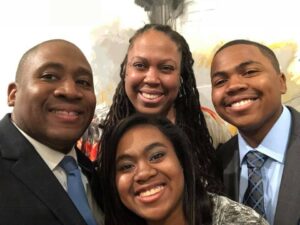 Leader Development Programs
GenMin, in partnership with other GCI ministries and affiliated educational institutions, helps
older teens and young adults develop as leaders who serve GCI congregations and ministries.

As shown in the diagram above, GCI has multiple development tracks on its Leadership Pathway, as well as our affiliated academic institutions, programs for young emerging leaders at GenMin camps and mission trips, and GenMin leader development events like this:
GenMin Resources
Youth Vision: a column dedicated to the adults who are actively participating in the discipleship of children and youth.
Age-graded resources: a catalog with links to books, articles, websites and curricula to use in discipling children, teens, young adults, older adults and families (including parenting and marriage)

Resources for RCL-synced children and teen studies/classes

:
Camp Resources
Here are resources that inform the ministry of GenMin camp and mission trip staff.
Camp Curricula
Most GenMin camps use GCI-produced teaching curricula. Here are links to curricula from past years: