Here are resources to use in helping people journey with Jesus on THE DISCIPLESHIP PATHWAY.
BELONG
(embrace unbelievers)
The gospel declares that because of Jesus Christ, all people are loved, forgiven and accepted by God—all belong (Eph. 1:4-6). Sadly, many don't experience God's unconditional love and acceptance and the result is sin
and the pain it brings. But the Holy Spirit is actively at work helping people come to know that they belong. He does so by leading disciple-making churches to embrace unbelievers, thus joining with Jesus in his
ministry of evangelism.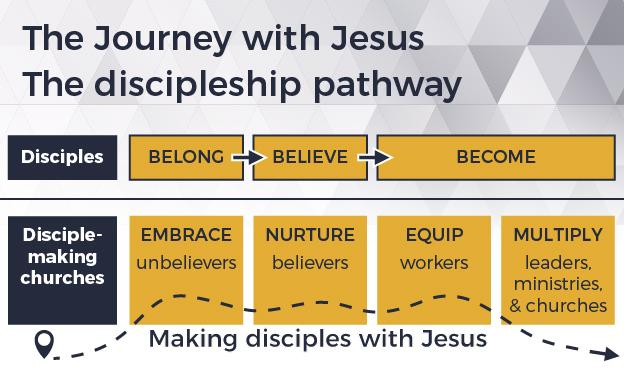 Embracing unbelievers involves developing friendships with those who do not know Jesus, then sharing with them God's love in ways that convey the good news (gospel) about Jesus accurately, clearly and attractively. Here are
resources recommended by GCI for churches to use in their ministries of evangelism:
FaithTalk Equipper – various resources to use in starting and facilitating evangelistic small groups.
18-minute video on evangelism:
BELIEVE
(nurture believers)
As people understand the gospel and experience the truth that God, through Jesus, by the Spirit, has included them in his love and life, they begin to see God and themselves in a new light—they begin to believe. The
Spirit leads disciple-making churches to nurture believers.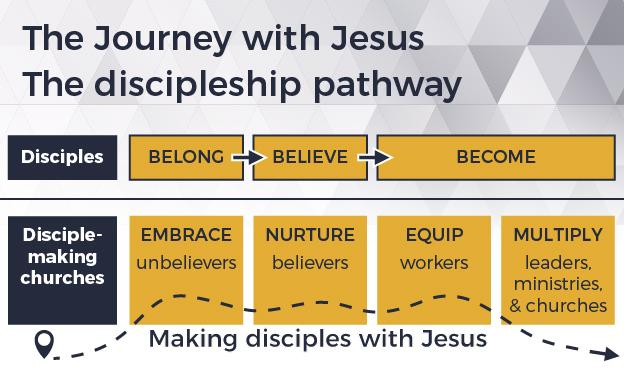 Believers are nurtured in and through the church in multiple ways—a primary one involves teaching new believers the basics of the Christian faith. Here are the recommended resources to use:
---
In addition to teaching the basics of the Christian faith, disciple-making churches address the following key issues related to nurturing believers (click on the bar to expand that topic):
BECOME
(equip workers | multiply leaders, ministries & churches)
As believers journey with Jesus, the Spirit transforms them into who they are (and are becoming) in Christ. Growing into that reality includes engaging as workers in ministry with Jesus, with some workers becoming
disciple-making leaders. The Spirit leads churches to equip workers and multiply leaders who then multiply ministries and churches.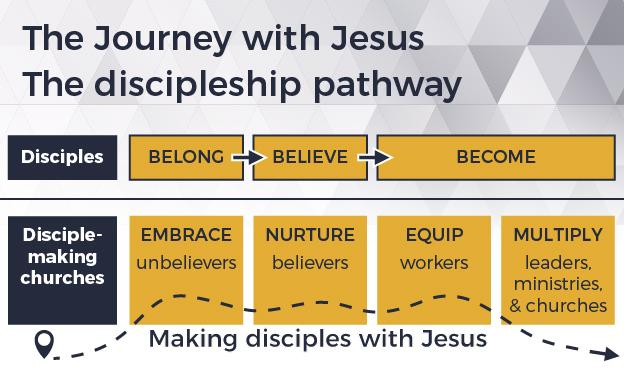 Here are some recommended advanced teaching resources that churches can use in equipping ministers (both workers and leaders):
40 Days of Discipleship– a self-paced, advanced curriculum in GCI doctrine and Trinitarian theology.
Education – free and low-cost online courses provided by GCI in theology and ministry practice.
Ministry growth– tools to help ministers grow spiritually and in disciple-making competency.
---
Grounded in the foundational teachings addressed by the resources above, workers and leaders need help to develop competency in the following key aspects of disciple-making ministry (click on the bar to expand that topic):