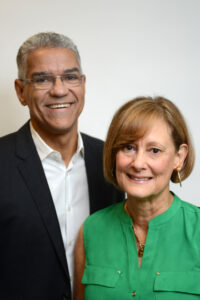 "To me, Connect Groups are where I see the two big commandments that Jesus talked about coming alive. Love the Lord your God. Love your neighbor as yourself. And we really can't love anybody God, even ourselves, and our neighbors unless we get to know each other. It is in that intimate space where we get together, and we just start sharing life on life."
–Charles Fleming, GCI-USA Southeast Regional Support Member
"Ask Jesus to give you a genuine love for these people. You may love people, but for these people, with their particular quirks, warts, and all. That kind of a thing…I think Spiritual discernment will come naturally from that because you love these people you are looking for what Jesus may be doing. And being equipped by him, through his love, to participate with him in whatever is he is doing in this person or these people's lives."
–Carmen Fleming
Main Points:
Connect Groups are a significant focus of the 2021 Faith Forward movement in GCI.
Why are Connect Groups so important? (6:02)
How have Connect Groups impacted the lives of people you care about? (15:29)
My experience tells me skillful facilitation of Connect Groups is vital. From your perspective, what are the most important skills of a Connect Group facilitator? (19:34)
What is the difference between a Connect Group and a Bible study? (35:02)
What would you say to a church pastor who is not sure about launching a connect group? (38:26)
Resources:
Why Connect Groups? – environments for relationally-based discipleship (includes starter curriculum).
Facilitator Best Practices – a tool to assist leaders in the formation and facilitation of their Connect Group. It also explains the format of the curriculum within the series, as well as an appendix with icebreakers and other resources.
Faith Avenue Tools: Starter sessions for building your Faith Avenue.
Stages of Faith Discipleship – A tool for understanding common stages of faith.
Follow us on Spotify, Google Podcast, and Apple Podcasts.